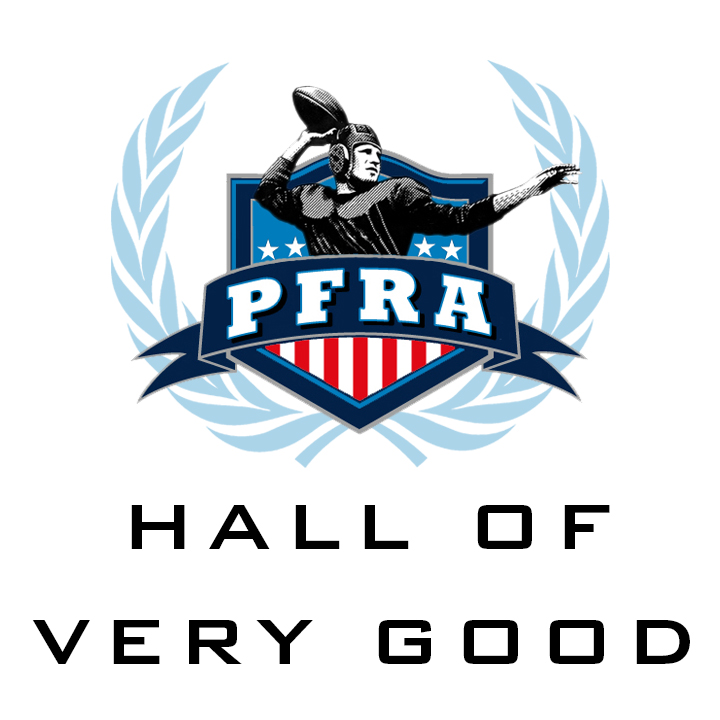 CLASS OF 2010
Begun in 2002, the Hall of Very Good seeks to honor outstanding players and coaches who are not in the Hall of Fame.
Robert Brazile*
Statistics
Position: Linebacker
Teams: Houston Oilers 1975-1984
Bio: Utilized great speed as dangerous outside linebacker. AP Defensive Rookie of the Year. Played in Pro Bowl in each of his first 7 seasons and never missed a game in 10-year career. Leading force on defense that propelled Oilers to two straight AFC title games.
Ed Budde
Statistics
Position: Guard
Teams: Kansas City Chiefs 1963-1976
Bio: Played in two Super Bowls including win over Vikings in SB IV. Selected to five AFL All-Star games and two Pro Bowls. Chiefs led league in rushing yards three times and yards per carry twice during his career. Played in every game from 1963 to 1973.
Don Coryell
Statistics
Position: Head Coach
Teams: St. Louis Cardinals 1972-1977, San Diego Chargers 1978-1986
Bio: Innovator who introduced pass-heavy offense known as Air Coryell. Cardinals finished in 1st place in '74 and '75 after 26-year drought. Guided Chargers to first division titles in 14 years in '79, '80 and '81. San Diego led NFL in passing yards six straight seasons.
Ox Emerson
Statistics
Scouting Report
Position: Guard, Center, Linebacker
Teams: Portsmouth Spartans 1931-1933, Detroit Lions 1934-1937, Brooklyn Dodgers 1938
Bio: Two-way mainstay on Lions 1935 NFL champs. His blocking was big reason Detroit had NFL's best ground game during his career. All-pro six straight years. Defensive standout in 1934 when Lions allowed only 59 points in 13 games and registered 7 straight shutouts.
Chuck Foreman
Statistics
Position: Running Back
Teams: Minnesota Vikings 1973-1979, New England Patriots 1980
Bio: Consensus Rookie of the Year in 1973. Earned all-NFC honors in 1974, 1975 and 1976. NFC Player of the Year in '75 and NFC Offensive Player of the Year in '76. Vikings made it to playoffs six times and to three Super Bowls in his seven years with team.
Bob Gain
Statistics
Position: Tackle, Middle Guard, End
Teams: Cleveland Browns 1952, 1954-1964
Bio: Standout defender at tackle, end and middle guard. Cleveland led NFL in many defensive categories in his 12 years. Earned five Pro Bowl berths and spot on many all-pro teams. Browns won two thirds of their games and three championships during his career.
Riley Matheson
Statistics
Position: Guard, Linebacker
Teams: Cleveland Rams 1939-1942, Detroit Lions 1943, Cleveland Rams 1944-1945, Los Angeles Rams 1946-1947, San Francisco 49ers 1948
Bio: Earned all-pro honors at both guard and linebacker in two leagues. His outstanding line play was one of keys to Rams' 1945 NFL championship. Consensus all-pro 4 straight seasons in 1944-47. Joined the AAFC 49ers in 1948 and helped them to 12-2 record.
Jimmy Patton
Statistics
Position: Defensive Back
Teams: New York Giants 1955-1966
Bio: Important cog on Giant defenses that led team to six conference titles. Had 52 career interceptions and led NFL with 11 in '58. Consensus first team all-pro in five consecutive seasons including unanimous three times. Also named to Pro Bowl in those five seasons.
Drew Pearson
Statistics
Position: Wide Receiver
Teams: Dallas Cowboys 1973-1983
Bio: Led the NFL in receiving yards in 1977. Cowboys played in three Super Bowls and made playoffs 10 times in his 11 seasons. Missed only 3 games in career that was cut short by serious car accident. Named to three Pro Bowls and was consensus 1st team all-pro twice.
Ken Riley
Statistics
Position: Cornerback
Teams: Cincinnati Bengals 1969-1983
Bio: Nearly 30 years after his last game, still ranks fifth all-time with 65 career interceptions. Returned five of those 65 for touchdowns. Finished second in NFL in INT's three times in his career with highs of 9 in '76 and 8 in'83. Missed only eight games in 15 seasons.
Entire Hall of Very Good
Class of:
2018, 2017, 2016, 2015, 2014, 2013, 2012, 2011, 2010, 2009, 2008, 2007, 2006, 2005, 2004, 2003
*Voted into the Pro Football Hall of Fame after induction into the Hall of Very Good.