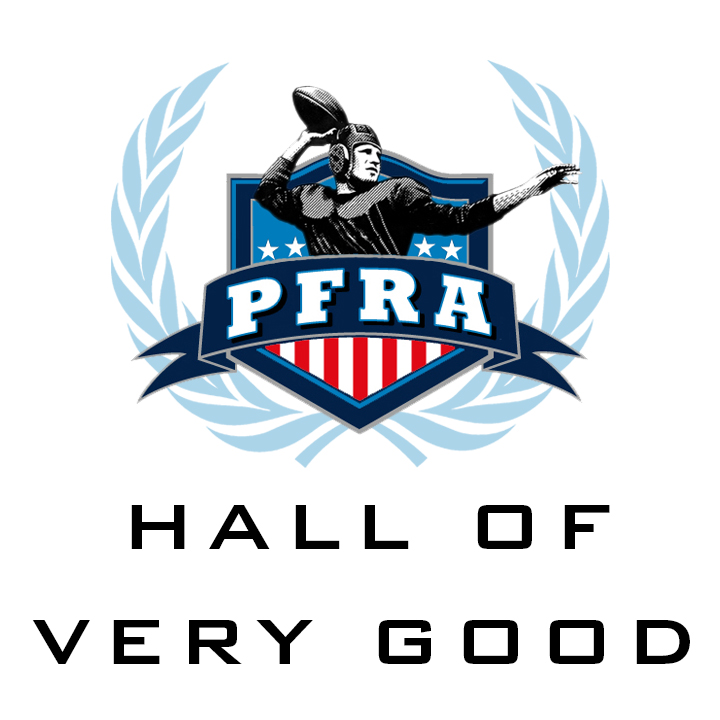 CLASS OF 2005
Begun in 2002, the Hall of Very Good seeks to honor outstanding players and coaches who are not in the Hall of Fame.
Maxie Baughan
Statistics
Position: Linebacker
Teams: Philadelphia Eagles 1960-1965, Los Angeles Rams 1966-1970, Washington Redskins 1974
Bio: Star linebacker with Eagles from 1960-65, then captained George Allen's complicated defense with Rams. Three Times all-NFL; 9 Pro Bowls. Aggressive and quick, but most valuable for his ability to diagnose opponents' offenses.
Jim Benton
Statistics
Position: End
Teams: Cleveland Rams 1938-1942, Chicago Bears 1943, Cleveland Rams 1944-1947
Bio: Great receiver with the Rams from 1938 thru 1947. Led NFL in receiving with 63 catches in 1946. When he retired, his 288 catches ranked second all-time in NFL. Sure hands and good speed, plus an unusually long reach.
Lavvie Dilweg
Statistics
Scouting Report
Position: End
Teams: Milwaukee Badgers 1926, Green Bay Packers 1927-1934
Bio: Widely regarded as the best all-around end of the 1920s, he starred for Packers three championship teams of 1929-31. Remarkably steady, he was a reliable receiver and deadly on defense.
Pat Harder
Statistics
Position: Fullback
Teams: Chicago Cardinals 1946-1950, Detroit Lions 1951-1953
Bio: Fullback for the Cardinals' "Dream Backfield" that powered the championship 1947 team. Led NFL in scoring three times, 1947-49. Excellent placekicker. Helped Lions win titles in early 1950s with his running and kicking.
Floyd Little*
Statistics
Position: Running Back
Teams: Denver Broncos 1967-1975
Bio: Extremely popular running star for Denver from 1967-75, he led the AFC in rushing in 1970 and 1971. His career marks included 6,323 rushing yards and 43 touchdowns. Additionally a good receiver and outstanding kick returner.
Tommy Nobis
Statistics
Position: Linebacker
Teams: Atlanta Falcons 1966-1976
Bio: After a great career at Texas, Nobis was the first pick of the 1966 draft with expansion Atlanta. He gave the Falcons 11 great years until his oft-injured knees gave out. Chosen to five Pro Bowls, he was often compared favorably to Dick Butkus.
Pete Retzlaff
Statistics
Position: Halfback, End
Teams: Philadelphia Eagles 1956-1966
Bio: Sure-handed, a strong blocker and steady, Retzlaff could play flanker or tight end, starring for the Eagles from 1956-66. He tied for NFL lead in most pass receptions in 1958. Caught 452 for 16.4 average and 47 TDs in career. Five Pro Bowls.
Tobin Rote
Statistics
Position: Quarterback
Teams: Green Bay Packers 1950-1956, Detroit Lions 1957-1959, San Diego Chargers 1963-1964, Denver Broncos 1966
Bio: Winning QB with 1957 NFL Lions champions and with 1963 San Diego AFL champs. After seven years with weak Green Bay teams, his '57 trade to Detroit proved his ability to lead when he had the horses. Passed for 18,880 career yards and 148 TDs.
Lou Rymkus
Statistics
Scouting Report
Position: Tackle
Teams: Washington Redskins 1943, Cleveland Browns 1946-1951
Bio: After one season with Washington and two in the service, Lou joined the Browns in the AAFC and stayed through for five championships. Paul Brown said he was the best tackle on the team in each of his six seasons. Famous for playing hurt.
Statistics
Scouting Report
Position: End
Teams: Los Angeles Rams 1957-1960, New York Giants 1961-1967
Bio: Five-time all-pro, Shofner was first tried as a defensive back with the Rams but quickly switched to wideout where his speed and catching ability made him the NFL''s most feared deep threat. Traded to the Giants, he excelled in combo with Y.A. Tittle.
Entire Hall of Very Good
Class of:
2018, 2017, 2016, 2015, 2014, 2013, 2012, 2011, 2010, 2009, 2008, 2007, 2006, 2005, 2004, 2003
*Voted into the Pro Football Hall of Fame after induction into the Hall of Very Good.