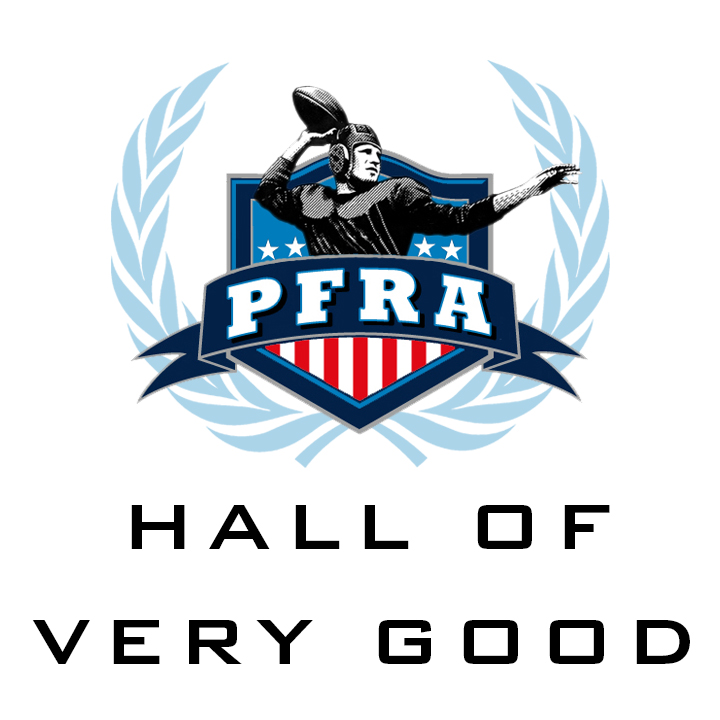 CLASS OF 2008
Begun in 2002, the Hall of Very Good seeks to honor outstanding players and coaches who are not in the Hall of Fame.
Dick Barwegen
Statistics
Scouting Report
Position: Guard
Teams: New York Yankees 1947, Baltimore Colts 1948-1949, Chicago Bears 1950-1952, Baltimore Colts 1953-1954
Bio: Outstanding guard for four teams in two leagues. Powerful run blocker whose teams were first in rushing yards twice and average gain once. Unanimous all-league choice four straight years. Excellent defender in his early years as two-way player.
Randy Gradishar
Statistics
Position: Linebacker
Teams: Denver Broncos 1974-1983
Bio: Leader of Denver's Orange Crush defense that won the AFC in 1977. NFL Defensive Player of Year in '78. Never missed a game in 10 seasons. Broncos led NFL in numerous defensive categories in his prime years. 4 TD's and 20 INT's in career.
Bob Hoernschemeyer
Statistics
Position: Halfback
Teams: Chicago Rockets 1946-1947, Brooklyn Dodgers 1947-1948, Chicago Hornets 1949, Detroit Lions 1950-1955
Bio: Among top rushers in each of his first 8 seasons. Led Detroit in rushing four straight years while Lions were winning two NFL titles. Counting AAFC total, was 4th all-time in rushing when he retired.
Cecil Isbell
Statistics
Position: Tailback
Teams: Green Bay Packers 1938-1942
Bio: Spectacular passer who led Packers to two Championship Games and one title. Set records for passing yards in 1941 and for completions, TD passes, and yards in '42. Also set marks with 5 TD throws in game and 22 straight games with TD pass.
Buddy Parker
Statistics
Position: Head Coach
Teams: Chicago Cardinals 1949, Detroit Lions 1951-1956, Pittsburgh Steelers 1957-1964
Bio: Coached Detroit to three title games and two titles, compiling 50-24-2 record. Turned Pittsburgh into contender and ranks 3rd behind Noll and Cowher in wins among Steeler coaches. Also played 9 NFL years including on 1935 Lion title winners.
Spec Sanders
Statistics
Scouting Report
Position: Tailback
Teams: New York Yankees 1946-1948, New York Yanks 1950
Bio: Hard running tailback who established pro records with 1,432 rushing yards and 19 TD's in 1947 when he was AAFC MVP. Led Yankees to two AAFC title games. Set NFL record with 13 interceptions when he switched to defense full time in 1950.
Jim Ray Smith
Statistics
Scouting Report
Position: Guard
Teams: Cleveland Browns 1956-1962, Dallas Cowboys 1963-1964
Bio: One of fastest guards ever who earned all-pro honors in five of the six full seasons he played. Browns led NFL in rushing yards and yards per carry twice each in his years with team. Had memorable game in '59 when he dominated Gene Lipscomb.
Billy Wilson
Statistics
Scouting Report
Position: Wide Receiver
Teams: San Francisco 49ers 1951-1960
Bio: Thrice led NFL in receptions and was in top 7 seven straight years. 4th or better in receiving yards 5 times and also led league in TD catches once. Ranked 2nd all-time to Hutson in receptions and TD catches and 3rd in receiving yards when he retired.
Entire Hall of Very Good
Class of:
2018, 2017, 2016, 2015, 2014, 2013, 2012, 2011, 2010, 2009, 2008, 2007, 2006, 2005, 2004, 2003
*Voted into the Pro Football Hall of Fame after induction into the Hall of Very Good.