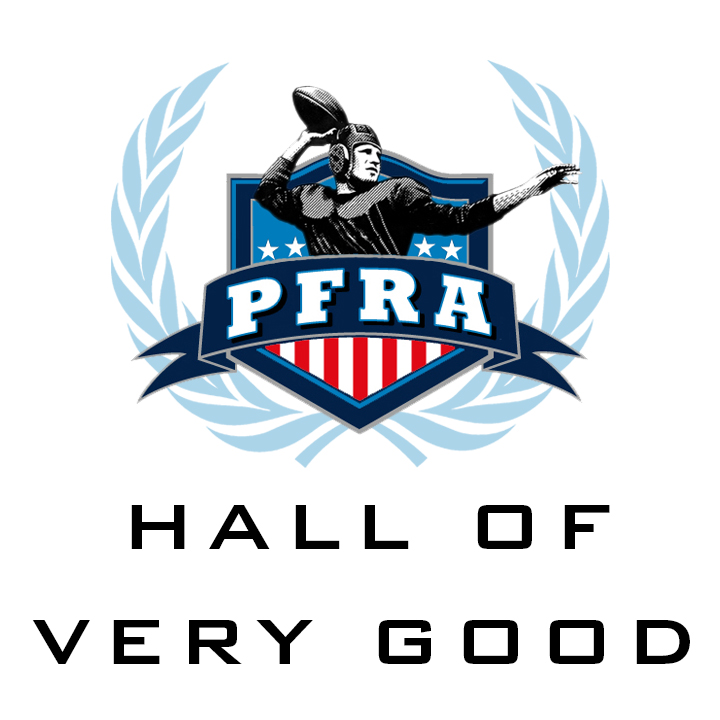 CLASS OF 2009
Begun in 2002, the Hall of Very Good seeks to honor outstanding players and coaches who are not in the Hall of Fame.
Bruno Banducci
Statistics
Scouting Report
Position: Guard
Teams: Philadelphia Eagles 1944-1945, San Francisco 49ers 1946-1954
Bio: Solid all-around blocker who earned first team all-pro honors twice in AAFC and three times in NFL. Also twice named to combined all-AAFC/NFL. Never played on champion but his teams won two-thirds of their games and finished second eight times. Seven times his team finished first in rushing yards and four times a teammate won rushing title.
Harold Carmichael
Statistics
Position: Wide Receiver
Teams: Philadelphia Eagles 1971-1983, Dallas Cowboys 1984
Bio: Ranked fifth in career receptions, seventh in receiving yards and seventh in touchdown catches when he retired. Also held record with 127 straight games with a catch. Led NFL in receptions and yards in 1973 when he was first team all-pro. Third in yards in 1978 and fifth in catches in 1974. Unanimous all-NFC in 1978 and 1979.
Blanton Collier
Statistics
Position: Assistant Coach 1946-53 and 1962, and Head Coach 1963-70
Teams: Cleveland Browns
Bio: Had big impact as all-around assistant as Browns finished first in all eight seasons of his first tenure in Cleveland. Succeeded Paul Brown in 1963 after four playoff-less seasons and guided team to five first-place finishes and 1964 NFL championship. Browns won 69% of their games and never had a losing season in his eight years as head coach.
Boyd Dowler
Statistics
Position: Wide Receiver
Teams: Green Bay Packers 1959-1969, Washington Redskins 1971
Bio: Leading receiver on Green Bay's dynasty of the 1960's who twice was named all-conference. Finished in the top 10 in receptions three times despite playing for a very run-oriented team. Ranked 10th in catches and 12th in receiving yards all-time when he retired. Had huge postseason in 1967 when Packers won Ice Bowl and Super Bowl II.
Claude Humphrey*
Statistics
Position: Defensive End
Teams: Atlanta Falcons 1968-1978, Philadelphia Eagles 1979-1981
Bio: Tall, powerful end who crushed pass pockets and destroyed running plays with great effectiveness. Garnered some first or second team all-pro honors eight times including three seasons where he was a consensus first-teamer. Joined Philadelphia after several serious injuries and helped Eagles to playoffs in each of his last three years.
Ken Kavanaugh
Statistics
Position: End
Teams: Chicago Bears 1940-1941 and 1945-1950
Bio: Averaged 18.7 yards per catch or better every year he played and led NFL in 1941 at 28.5. Career average of 22.4 is one of best ever. Fifty of his 162 career catches were touchdowns and twice led league in TD receptions. Played in three title games (all Bear victories) and scored TD in all three. Missed three prime seasons to military service.
Verne Lewellen
Statistics
Position: Halfback
Teams: Green Bay Packers 1924-1927, New York Yankees 1927, Green Bay Packers 1928-1932
Bio: One of best backs of the 1920's who twice led NFL in TD's and rushing TD's. Second team all-pro in 1925 and consensus first-teamer in 1926-29. Few statistics are available from that time but was an outstanding punter in era when advantage in that part of the game frequently meant victory. Packers won three titles in his years in Green Bay.
Walt Sweeney
Statistics
Position: Guard
Teams: San Diego Chargers 1963-1973, Washington Redskins 1974-1975
Bio: Key component of San Diego's high-octane offense of the 1960's. Chargers ranked at top in numerous offensive categories in first part of his career and played in three straight title games, winning once. Named as second team all-league selection three times and first team four times including 1967-69 when he was consensus all-AFL.
Entire Hall of Very Good
Class of:
2018, 2017, 2016, 2015, 2014, 2013, 2012, 2011, 2010, 2009, 2008, 2007, 2006, 2005, 2004, 2003
*Voted into the Pro Football Hall of Fame after induction into the Hall of Very Good.