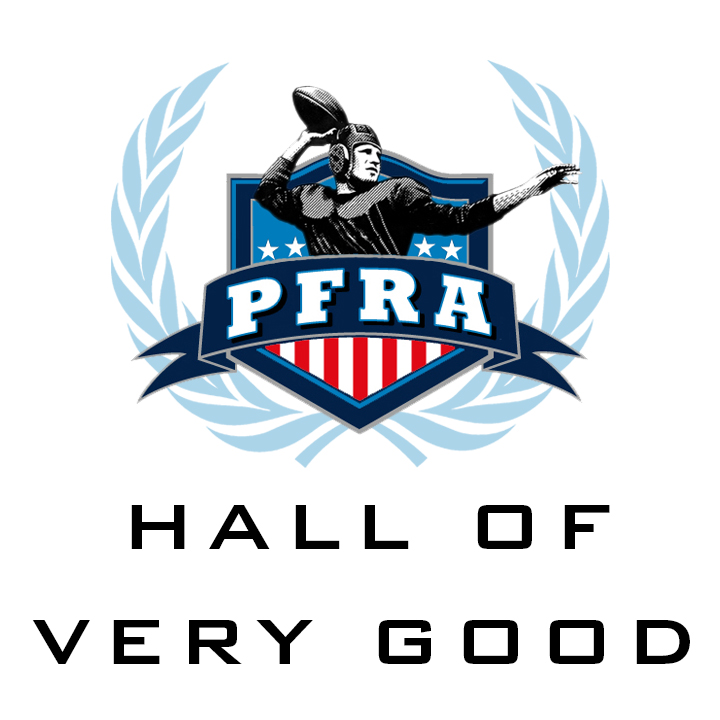 CLASS OF 2011
Begun in 2002, the Hall of Very Good seeks to honor outstanding players and coaches who are not in the Hall of Fame.
Ken Anderson
Statistics
Position: Quarterback
Teams: Cincinnati Bengals
1971-86 Bio: Ken Anderson was one of the best quarterbacks of his era and one of the most accurate passers in pro football history. He was a four time passing champion, went to the Pro Bowl four times, and was the NFL Man of the Year in 1975. Anderson earned his biggest acclaim in 1981 when he was league MVP, Offensive Player of the Year, Comeback Player of the Year and a consensus first-team All-Pro. In 1982, he completed 20 passes in a row to set a new league record that stood until 2002, and also set the single season completion percentage record that would last until 2009. Anderson holds nearly every major Bengals regular season, post-season and career passing records, and his 16 seasons is the most in franchise history. In Anderson's third season, just his second as a starter, he led Cincinnati to the 1975 AFC Central Division championship and a playoff berth. This was one of two division titles and four playoff appearances in his career. In 1981, Anderson led the Bengals to a franchise record 12 wins and an appearance in the AFC Championship Game. He threw two touchdowns in the 27-7 victory over San Diego in "The Freezer Bowl." In Super Bowl XVI, Anderson rallied the Bengals from a 20-point deficit against San Francisco. Anderson's two touchdown passes and one rushing touchdown were not enough in a 26-21 loss. Anderson was a finalist for the Pro Football Hall of Fame in 1996 and 1998.
Cliff Branch
Statistics
Position: Wide Receiver
Teams: Oakland/Los Angeles Raiders 1972-1985
Bio: Cliff Branch is a three time Super Bowl champion. In 1974 he led the NFL in receiving yards, touchdown receptions and receiving yards per game. In 1976, he led the NFL in touchdown receptions, receiving yards per game as well as having the league's longest reception of the season, an 88 yard touchdown. He also averaged an amazing 24.2 yards per catch on the season. In 1983 he set the team record and tied the NFL record with a 99 yard touchdown reception. Branch went to four consecutive Pro Bowls (1974-1977) and was three times a consensus first team All-Pro (1974-76.) He spent his entire career with the Raiders and was a starter on all three of the franchises championship teams. In Super Bowl XV he had 5 catches for 69 yards and 2 touchdowns, while in Super Bowl XVIII he had 6 catches for 94 yards and a touchdown. He was a semi-finalist for the Pro Football Hall of Fame in 2004 and 2010.
Bobby Dillon
Statistics
Scouting Report
Position: Defensive Back
Teams: Green Bay Packers 1952-1959
Bio: Bobby Dillon earned four Pro Bowl selections in his eight seasons as a defensive back for the Green Bay Packers. Playing on mostly undermanned Packer teams, Dillon became the Packers' all-time leader in interceptions with 52. He also owns the Green Bay record for the most seasons leading the team in interceptions (8). Three times in his career he intercepted nine passes, which ties him for second all-time with the Packers. Dillon is tied for the NFL record for most interceptions in a game (4). He is also tied for second most interception returns for touchdowns (5) in Packer history. In addition to his Pro Bowl honors, Dillon was a consensus first team All-Pro four times in a row ('55-'58). In three of those years he was a unanimous selection.
Cliff Harris
Statistics
Position: Safety
Teams: Dallas Cowboys 1970-1979
Bio: Cliff Harris was voted first-team safety on the NFL 1970's All-Decade team. He is the only first-team defensive player on that team to not be in the Pro Football Hall of Fame. He spent his entire career in the 70's, playing all ten seasons of his career for the same team that signed him after he went undrafted in 1970. He played in five Super Bowls with the Cowboys, winning two championships. During his exceptional career he intercepted 29 passes and had 18 fumble recoveries. He also had six career post-season interceptions. He was a three time consensus first-team All-Pro and was named to six consecutive Pro Bowls, from 1974 through his final season in 1979, ending his career still playing at a high level. He was a finalist for the Pro Football Hall of Fame in 2004, and later that year he was inducted into the Cowboys Ring of Honor.
Harold Jackson
Statistics
Position: Wide Receiver
Teams: Los Angeles Rams 1968, Philadelphia Eagles 1969-1972, Los Angeles Rams 1973-1977, New England Patriots 1978-1981, Minnesota Vikings 1982, Seattle Seahawks 1983
Bio: After playing only two games his rookie season, Jackson was traded to the Philadelphia Eagles. He promptly was selected to the Pro Bowl after racking up a league-leading 1,116 yards on 65 receptions in his sophomore season. He was traded back to the Rams in exchange for Roman Gabriel and scored a league-leading 13 touchdowns on his way to a consensus first-team all-pro selection in 1973. Jackson was in the top ten in receptions four times, the top ten in receiving yards five times and the top ten in receiving touchdowns four times. He led the league in receptions in 1972 (62); receiving yards in 1969 (1,116) and 1972 (1,048); receiving yards per game in 1969 (79.7) and 1972 (74.9); and receiving touchdowns in 1973 (13).
Andy Russell
Statistics
Position: Linebacker
Teams: Pittsburgh Steelers 1963-76
Bio: Andy Russell was part of what some consider the greatest linebacking corps in pro football history, playing alongside Hall of Famers Jack Ham and Jack Lambert. Russell made the NFL All-Rookie team in 1963 and was selected to seven Pro Bowls, including six in a row. He was a consensus first team all-AFC pick three times and got All-Pro mention in several seasons. He was the Steelers' MVP in 1970 and won the Whizzer White Humanitarian Award in 1973. Throughout his football career, Russell displayed his durability by never missing a game. He also showed excellent leadership skills as captain of the Missouri team in 1962, as well as captain of the Steelers from 1967 through 1976. He was a key performer during the first half of the Steelers 1970's dynasty and played on the Super Bowl champion teams of 1974 and 1975. He was inducted into the University of Missouri's Hall of Fame in 1993.
Lou Saban
Statistics
Positions: Head Coach/Linebacker
Teams (Player): Cleveland Browns 1946-1949
Teams (Head Coach): Boston Patriots 1960-1961, Buffalo Bills 1962-1965, Denver Broncos 1967-1971, Buffalo Bills 1972-1976
Bio: Saban captained the Browns for Paul Brown for three of his four seasons as a linebacker/center. Cleveland won the AAFC title in all four of those seasons, posting a 47-4-3 record. Saban was an all-league choice in 1948 and '49 and was named to the combined all-AAFC/NFL teams in both of those years as well. He coached the Bills to consecutive AFL titles in 1964-65, the only two championships in franchise history. Saban returned to Buffalo in the 1970s and led the Bills to the playoffs in 1974. His long, nomadic coaching career also included mostly unsuccessful stints with the Patriots and Broncos.
Tom Sestak
Statistics
Position: Defensive Tackle
Teams: Buffalo Bills 1962-1968
Bio: Tom Sestak was a 17th-round pick in the 1962 AFL draft who went on to play seven seasons for Buffalo. Over that span, he recorded 51 sacks and returned two interceptions for touchdowns. He played in three AFL Championship Games, with his team winning two. Sestak was named to the All-AFL team four times and was selected to the Bills' Silver Anniversary Team in 1984. He was named to the all-time AFL team and to the Buffalo Bills Wall of Fame in 1987.
Jerry Smith
Statistics
Position: Tight End
Teams: Washington Redskins 1965-1977
Bio: Jerry Smith's career with the Washington Redskins has him fourth all-time in receptions (421) and sixth all-time in receiving yards (5,496) in team history. He made All-Pro twice (consensus once), all-conference twice and all-AFL/NFL once. At the time of his retirement, he was first among tight ends in career touchdowns (60), and currently ranks third. A key player in the Redskins' 1972 Super Bowl team, he was named as one of the 70 greatest Redskins by a blue-ribbon panel formed to celebrate Washington's 70th anniversary.
Entire Hall of Very Good
Class of:
2018, 2017, 2016, 2015, 2014, 2013, 2012, 2011, 2010, 2009, 2008, 2007, 2006, 2005, 2004, 2003
*Voted into the Pro Football Hall of Fame after induction into the Hall of Very Good.