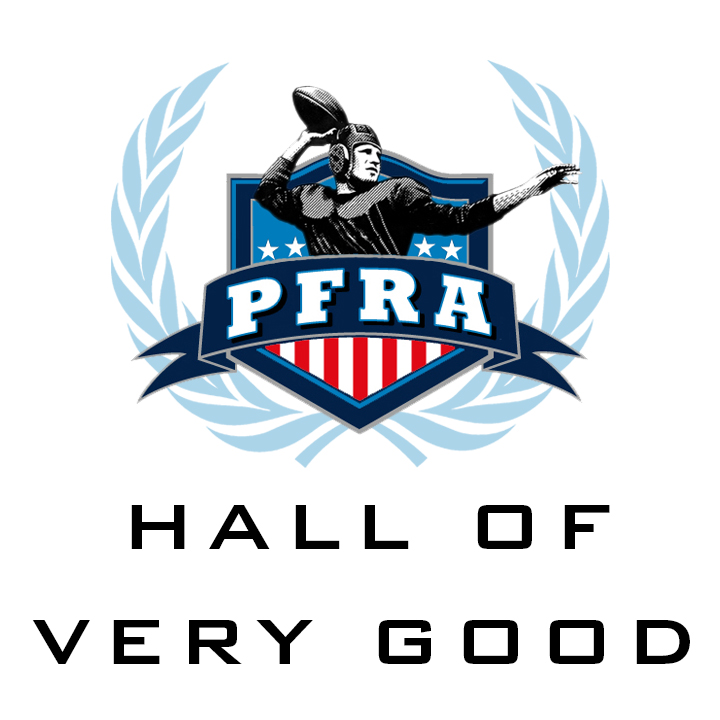 CLASS OF 2007
Begun in 2002, the Hall of Very Good seeks to honor outstanding players and coaches who are not in the Hall of Fame.
Frankie Albert
Statistics
Scouting Report
Position: Quarterback
Teams: San Francisco 49ers 1946-1952
Bio: First team all-AAFC/NFL once, second team three times. All-AAFC three times. Tossed 29 TD's in 1948, 27 in '49. Co-MVP in 1948. Lost 4 years to military. Expert bootlegger, ball-handler. 48.2 yard punting average in 1949, 43.0 for career. Great on-the-run punter.
Roger Brown
Statistics
Position: Defensive Tackle
Teams: Detroit Lions 1960-1966, Los Angeles Rams 1967-1969
Bio: Punishing tackle on great defenses in Detroit and Los Angeles. Starred in 1962 Thanksgiving Day Massacre. Once held all-time record with 3 career safeties. Iron man who never missed a game in 10 year career. 6 Pro Bowls, all-pro twice.
Timmy Brown
Statistics
Position: Running Back
Teams: Green Bay Packers 1959, Philadelphia Eagles 1960-1967, Baltimore Colts 1968
Bio: Dangerous runner, receiver, and return man. 12,681 all-purpose yards including 4th and 7th best season marks. 64 TD's, 6 on kick returns. Averaged 26.0 on kickoff returns and twice led NFL in yards. Led NFL with 5.4 rushing average in 1965. 3-time Pro Bowler.
Marshall Goldberg
Statistics
Position: Back
Teams: Chicago Cardinals 1939-1943, 1946-1948
Bio: Part of Cardinals' Dream Backfield. Leader on 1 league and 2 conference champs. Led NFL in interceptions in 1941. Twice led league in kickoff return yards and finished 3rd with 24.2 yard average in '41, 2nd at 26.2 in '42. Missed 2 years in military. All-pro in '47.
Jim Lee Howell
Statistics
Position: End, Head Coach
Teams: New York Giants 1937-1942, 1946-1947, 1954-1960
Bio: Winning percentage of .648 is best in Giants history of coaches with at least 3 seasons. Led team to 3 conference titles and 1956 championship. Never had a losing record in 7 years. Also won NFL title, 4 conference crowns, and all-pro honors as player.
Glenn Presnell
Statistics
Position: Back
Teams: Portsmouth Spartans 1931-1933, Detroit Lions 1934-1936
Bio: Outstanding triple threat. Led Ironton Yanks to wins over Giants and Bears in 1930. 1st in scoring, 2nd in passing, 4th in rushing and all-pro in '33. Played on Lions teams that had 7 straight shutouts in '34 and won NFL title in '35. Kicked record 54-yard field goal in '34.
Dick Schafrath
Statistics
Scouting Report
Position: Tackle
Teams: Cleveland Browns 1959-1971
Bio: Helped Browns finish 1st in rushing yards 5 times, yards per carry 6 times including all-time best 5.74 in1963. Known for making multiple blocks on same play. Only missed two games in 13 years. All-pro 3 times, 6 Pro Bowls. Team never had losing season in career.
Jake Scott
Statistics
Position: Defensive Back
Teams: Miami Dolphins 1970-1975, Washington Redskins 1976-1978
Bio: Standout safety on two Super Bowl winners. 49 career interceptions. 2 in SB VII when he was MVP. In NFL Top 10 seven times. Known for playing hurt. Excellent kick returner. 5th in NFL in punt returns in 1970, 3rd in '71, 4th in '73. All-pro 4 times, 5 Pro Bowls.
Ed Sprinkle
Statistics
Position: Defensive End
Teams: Chicago Bears 1944-1955
Bio: Rugged player on many excellent Bears' teams. One of the first pass rushing defensive ends. Played on Chicago's 1946 champions. Team finished 2nd 7 times in his career. All-pro twice, 2nd team 3 times, 4 Pro Bowls. Nabbed seven touchdown passes in spot duty on offense.
Tank Younger
Statistics
Position: Halfback, Fullback
Teams: Los Angeles Rams 1949-1957, Pittsburgh Steelers 1958
Bio: Mainstay on greatest offense in history. 6.2 yards per rush in 1951, 6.7 in '54, 4.7 for career. Pro Bowler and all-pro mention on both offense and defense. Played in four Championship Games. First pro player from historically black college.
Entire Hall of Very Good
Class of:
2018, 2017, 2016, 2015, 2014, 2013, 2012, 2011, 2010, 2009, 2008, 2007, 2006, 2005, 2004, 2003
*Voted into the Pro Football Hall of Fame after induction into the Hall of Very Good.