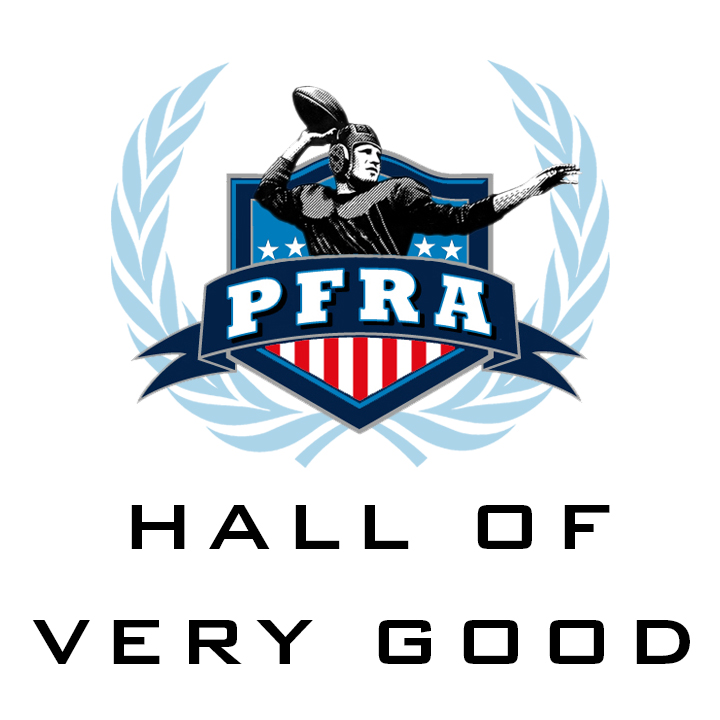 CLASS OF 2017
Begun in 2002, the Hall of Very Good seeks to honor outstanding players and coaches who are not in the Hall of Fame.
Bobby Boyd
Statistics
Position: Cornerback
Teams: Baltimore Colts (1960-68)
Bio: Although the Baltimore Colts were never a world's champion during Bobby Boyd's outstanding career, they were a highly competitive team throughout his nine years with the team. Moving into a starting cornerback position as a rookie, Boyd intercepted seven passes in 11 games of a 12-game season for the two-time defending champion Colts. It was the first of seven seasons in the ball-hawking Boyd's career that he would intercept six or more passes. His high mark was nine, a total he reached twice including in 1965 when he led the NFL. Boyd returned interceptions for over 100 yards six times including a league best 185 in 1964. All told, Boyd intercepted 57 passes in his career good for 994 yards, four touchdowns and 17.4 yards per pick. Boyd ranked third in pro football history in career interceptions when he retired, behind only Emlen Tunnell and Night Train Lane. He was a consensus first team all-pro in 1964, 1965 and 1968, seasons in which the Colts amassed a 35-6-1 regular season record, and he received some second team recognition in 1966 and 1967. He was named to the Pro Bowl after the 1964 and 1969 seasons. Though the 1964 and 1968 Colts are largely remembered for stunning defeats in the final game of those seasons, they fielded the NFL's best defense both years and Boyd was one of their best players in both. He was one of four cornerbacks named to the NFL's all-decade team of the 1960s.
Todd Christensen
Statistics
Positions: Tight End/Running Back
Teams: New York Giants (1979), Oakland/Los Angeles Raiders (1979-88)
Bio: Todd Christensen was one of the first tight ends, along with Kellen Winslow and Ozzie Newsome, to amass huge reception and yardage totals in the years after the 1978 rule changes designed to enhance the passing game. He was a running back in college and in a training camp stint with the Cowboys in 1978. Beginning in 1983 after moving to tight end, Christensen put up numbers greater than even the game's best wide receivers just a few years before. In the four seasons from 1983 through 1986, Christensen caught 347 passes for 4,394 and 33 touchdowns as he led the NFL in receptions in both 1983 and 1986. His reception total of 92 in 1983 established a new all-time record for tight ends and he broke his own mark three years later with 95. Christensen received plenty of all-pro honors during that four-year run including as a unanimous first team selection in 1983 and 1985. His production dropped in the strike season of 1987 but he was named to the fifth of his five Pro Bowls, all consecutively. The Raiders were an elite team for much of Christensen's career. They won the Super Bowl in 1980 and 1983 and finished with the best record in the AFC in both 1982 and 1985 before getting knocked out in the playoffs. Christensen remained involved in athletics after his retirement from the NFL. He won international heptathlon competitions and was the top decathlete in the world in the 45 and over age category.
Joe Fortunato
Statistics
Position: Linebacker
Teams: Chicago Bears (1955-66)
Bio: The defense of the 1963 Chicago Bears has long been heralded as one of pro football's greatest and outside linebacker Joe Fortunato was one of that unit's best players. Chicago led the NFL in many defensive categories that year and the Bears capped the season with a 14-10 win over the New York Giants in the NFL Championship Game. Fortunato was named to the first team of all of the major all-pro teams that season, a feat he duplicated in 1964. He was also a consensus first-teamer in 1965 and received second team mention in three other seasons. Fortunato was named to five Pro Bowls during his career. Fortunato was drafted by the Bears in 1952 but did not join the team until 1955 because of military service. He took over the starting right linebacker position in his second season and the Bears posted the best record in the NFL before losing to the Giants in the Championship Game. Fortunato spent the rest of his career at left outside linebacker as the Bears consistently fielded one of football's most rugged defenses. Things really came together in 1963 behind Fortunato, Doug Atkins and Bill George as Chicago led the NFL by a wide margin in both fewest rushing and passing yards allowed, in addition to allowing only 10.3 points per game, also a league best. Fortunato was selected to the NFL's all-1950s team and the football historians who authored Total Football in 1997 named him one of the 300 greatest players in pro football history.
Dave Grayson
Statistics
Positions: Cornerback/Safety
Teams: Dallas Texans/Kansas City Chiefs (1961-64), Oakland Raiders (1965-70)
Bio: Dave Grayson became a starting cornerback with the Dallas Texans in his rookie season of 1961 while also leading the AFL in kickoff returns. When the Texans won the AFL title the following year, he was established as a leader of the Dallas defense. Despite posting his best season to date in 1964 with seven interceptions and a league-best 187 return yards, Grayson was traded to Oakland in 1965. It was no coincidence that the fortunes of the Raiders improved dramatically once Grayson arrived. After posting a .353 winning percentage in their first five seasons, the Raiders went 61-18-5 (.772) in Grayson's six years in Oakland. Grayson moved to free safety after the Raiders acquired cornerback Willie Brown in 1967 as the Oakland secondary emerged as one of the best in pro football. Oakland made it to three consecutive AFL title games and advanced to Super Bowl 2 with Grayson and a defense that was both good and intimidating. The Raiders led the AFL in numerous defensive categories in 1967, 1968 and 1969 and along the way, Grayson led the league with ten interceptions in 1968 that were good for 195 return yards. He had five seasons in his ten-year career when he amassed 99 or more yards on interceptions. All told, he averaged 19.4 yards on his 48 career picks, five of which he returned for touchdowns. Grayson was named to six AFL All-Star Games as well as a first-team safety on the AFL's all-time team.
Cornell Green
Statistics
Position: Cornerback
Teams: Dallas Cowboys (1962-74)
Bio: When the Dallas Cowboys began their long run as an elite team in 1966, defensive back Cornell Green was a big reason. He was well-established in the Dallas secondary by then after four years in which he was earned Pro Bowl honors in 1965 and ranked among the league leaders in 1963 with seven interceptions and a whopping 211 return yards. Oddly enough, Green did not play football in college although he was a two-time All-American basketball player at Utah State. (His brother Pumpsie played five years of major league baseball). He earned his second Pro Bowl nod in as well as first team all-pro honors in 1966 as the Cowboys advance to their first NFL Championship Game. Green again tallied seven interceptions in 1967 and repeated as a first team all-pro and Pro Bowl participant in 1967 as Dallas made it back to the NFL title game. He continued to garner some all-pro recognition even after making the switch from left cornerback to strong safety when Herb Adderley and Cliff Harris joined the Cowboys in 1970. Dallas's famed Doomsday Defense was consistently at or near the top in many major statistical categories during Green's career as the Cowboys made it to Super Bowl 5 and defeated Miami in Super Bowl 6 with a dominating defensive performance. During Green's prime from 1966-73, Dallas posted a stellar 83-27-2 record (.755). He was named to five Pro Bowls and intercepted 34 passes during a career in which he never missed a game. Green was named to the Cowboys 25th Anniversary Team.
Dan Reeves
Statistics
Positions: Running Back/Head Coach
Teams: Player: Dallas Cowboys (1965-72); Head Coach: Denver Broncos (1981-92), New York Giants (1993-96), Atlanta Falcons (1997-2003)
Bio: Dan Reeves coached two different teams to four total Super Bowls in a 23–year head coaching career in which his teams posted a 190-165-2 regular season record. Though never victorious in a Super Bowl, he did lead his teams to an 11-9 postseason record. Reeves and quarterback John Elway led an otherwise average Denver Broncos team to five playoff appearances, a 3-1 record in the AFC Championship Game and a .601 winning percentage. After a falling out with Elway, he moved on to the Giants who he coached in his first season to an 11-5 record and a victory in a wildcard playoff game a year after New York finished 6-10. After four seasons in New York, Reeves took the helm in Atlanta in 1997. The Falcons posted a 14-2 record in just his second season and the franchise made its first ever Super Bowl appearance after a stunning victory over the powerhouse 15-1 Minnesota Vikings in the NFC Championship Game. The Falcons made one more playoff appearance in 2002 before Reeves left coaching for good with a total of nine playoff appearances on his resume. Reeves also played eight seasons with the Cowboys in which Dallas was in the playoffs seven straight years, capped by a victory in Super Bowl 6. He did double duty as an assistant coach in his final season, the first of eight years he worked as a Dallas assistant. The Cowboys made three more Super Bowl appearances during that time, winning once. Reeves is a member of the Broncos Ring of Fame.
Bob Skoronski
Statistics
Position: Tackle
Teams: Green Bay Packers (1955 and 1959-68)
Bio: Bob Skoronski was overshadowed by many of his Green Bay teammates during an 11-year NFL career but it was he who Vince Lombardi named as offensive captain of the Packers. Skoronski is also one of 13 men to play on all five of Green Bay's championship teams of the 1960s. Drafted in the fifth round by the Packers, Skoronski started at left tackle in his rookie season. He missed two years while in the Air Force and rejoined the Packers for Lombardi's first season as head coach. Green Bay improved from 1-10-1 in 1958 to 7-5 in 1959 and then finished first in the Western Conference in 1960 for the first time in 16 years, on their way to six Western Conference crowns and the five NFL titles in eight seasons. With Lombardi's emphasis on the power sweep, the Packers featured a powerful running game throughout Skoronski's career. Their attack featured a skilled, versatile group of offensive linemen and Skoronski was an especially effective run-blocker. He was also durable and missed only two of 148 regular season games in his career. Skoronski was named to the Pro Bowl after the 1966 season, a season in which the Packers won a memorable NFL Championship Game over Dallas and the first Super Bowl. Skoronski played an outstanding game in the even more memorable Ice Bowl title game the next year and the Packers followed up with a second consecutive decisive Super Bowl victory. He is a member of the Packers Hall of Fame.
Entire Hall of Very Good
Class of:
2022, 2021, 2020, 2019, 2018, 2017, 2016, 2015, 2014, 2013, 2012, 2011, 2010, 2009, 2008, 2007, 2006, 2005, 2004, 2003
*Voted into the Pro Football Hall of Fame after induction into the Hall of Very Good.