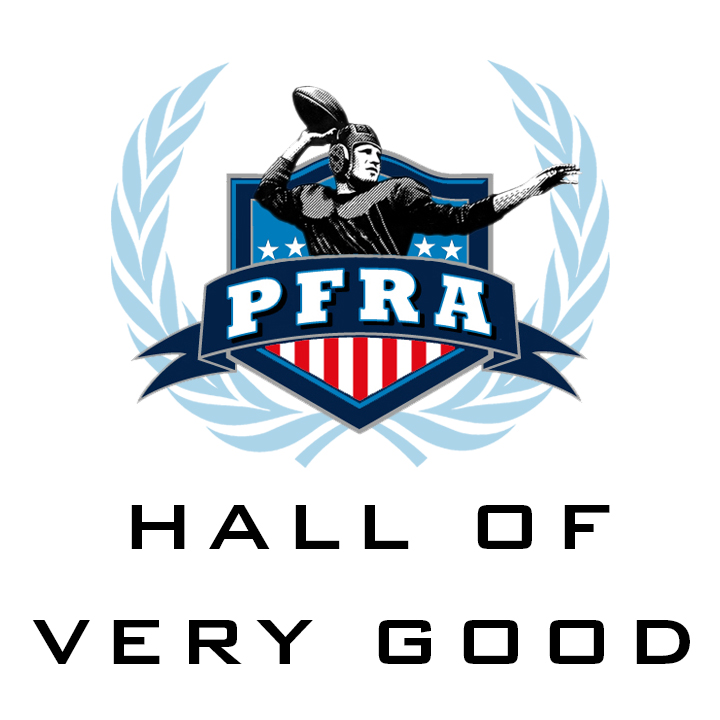 CLASS OF 2010
Begun in 2002, the Hall of Very Good seeks to honor outstanding players and coaches who are not in the Hall of Fame.
Robert Brazile*
Statistics
Position: Linebacker
Teams: Houston Oilers 1975-1984
Bio: Perhaps the most well-rounded linebacker of his time, Robert Brazile was extremely versatile. His ability to rush the passer, drop into coverage and hit opponents with ferocity made him a perfect fit for Bum Phillips' 3-4 defense in Houston. Drafted sixth overall in the 1975 NFL draft by the Oilers, Brazile won the NFL Defensive Rookie of the Year Award. The Oilers posted a 10-4 record, their best mark since 1962, and narrowly missed the playoffs in the fiercely competitive AFC Central. Brazile was such a tackling machine that opponents generally ran and passed away from his side of the field. Despite it, he still found the ball, earning the nickname "Dr. Doom." Brazile is credited with 1,281 career tackles and an unofficial 48 sacks. Houston posted records of 10-6, 11-5 and 11-5 in 1978-80, made the playoffs each year and twice advanced to the AFC Championship Game. In all three years, they lost in the playoffs to the eventual Super Bowl winner. The Oilers finished near the top in a number of defensive statistical categories during Brazile's career including first in the AFC in fewest rushing yards allowed in 1975 and first in the AFC in fewest point allowed in 1980. Brazile enjoyed great individual success, earning seven straight Pro Bowl selections (1976-82) as well as being named first team all-pro by at least one major media outlet five times (1976-80) and second team in 1981. He was also first team all-AFC five times. He retired at the end of the 1984 season after his wife was killed in an auto accident. Brazile was named to the NFL's all-decade team of the 1970s and was inducted into the Titans-Oilers Ring of Honor in 2018. Brazile was enshrined in the Pro Football Hall of Fame in 2018 eight years after he was elected to the Hall of Very Good.
Ed Budde
Statistics
Position: Guard
Teams: Kansas City Chiefs 1963-1976
Bio: Ed Budde played on several of the best teams in Kansas City Chiefs history. Drafted in 1963 by both the AFL Chiefs and the NFL Eagles, he chose to play for Kansas City. His strength and 6'5" and 265-pound size allowed him to go toe-to-toe with the best defensive tackles of his era including Bob Lilly, Merlin Olsen, Alan Page and Joe Greene. Known for his explosive first move and atypical stance in which he placed his left hand down on the turf instead of his right, Budde was a key factor in the success of the Chiefs' offense. Kansas City led the AFL in points and total yards in 1966, rushing yards in 1966, 1968 and 1969, passing touchdowns in 1964 and 1966, rushing touchdowns in 1966 (tied) and 1969, and yards per rush in 1965 and 1966. He and his linemates provided pocket protection for quarterback Len Dawson, the AFL's most accurate passer. From 1966 through 1971, the Chiefs went 60-20-4 (.750), made the postseason four times, won two AFL titles and appeared in two Super Bowls. In Super Bowl IV, the Kansas City offensive line's domination of Minnesota's great defensive line was one of the keys to the Chiefs' decisive win. From 1963 through 1974, Budde missed only three of 168 regular season games and started in 114 straight from 1964 to 1971. Budde played in five AFL All-Star Games (1963, 1966-69), was a two-time Pro Bowl selection (1970-71), was all-AFL first team twice and second team twice. He was selected to the all-time all-AFL Team in 1969 and was inducted into the Kansas City Chiefs Hall of Fame in 1983. Budde's 14 seasons with Kansas City is the second most in franchise history.
Don Coryell
Statistics
Position: Head Coach
Teams: St. Louis Cardinals 1972-1977, San Diego Chargers 1978-1986
Bio: Don Coryell was an offensive innovator who influenced some of the game's greatest coaches, including John Madden, Joe Gibbs, and Bill Walsh. He became the head coach of the St. Louis Cardinals in 1972, a time when the club enjoyed little success. It was while coaching San Diego State to three NCAA College Division national titles that he developed the vertical passing offense, termed Air Coryell, that took the NFL by storm. The pass-oriented offense propelled the Cardinals to division titles in 1974 and 1975, the team's first playoff appearances since 1948, and Coryell earned Coach of the Year honors in 1974. Quarterback Jim Hart enjoyed his best seasons under Coryell, earning four consecutive Pro Bowl selections, and Coryell also helped develop Hall of Famers Dan Dierdorf, Jackie Smith and Roger Wehrli into among the best players of that era. In 1978, Coryell left to coach San Diego where his success continued as the Chargers posted their first winning season since 1969 in his first year. San Diego led the NFL in passing yards seven times in his nine years as their coach, and quarterback Dan Fouts was a two-time all-pro. The Chargers made the playoffs four straight years from 1979-82 including three consecutive AFC West division crowns, and they twice advanced to the AFC Championship Game. Fouts, wide receiver Charlie Joiner and tight end Kellen Winslow are all Hall of Famers, and Winslow was one of the first tight ends to be a primary part of the vertical passing attack under Coryell. Coryell posted a career regular season record of 111-83-1 good for a .572 winning percentage. He is a member of the Chargers Hall of Fame and of the club's 40th and 50th Anniversary Teams.
Ox Emerson
Statistics
Scouting Report
Position: Guard, Center, Linebacker
Teams: Portsmouth Spartans 1931-1933, Detroit Lions 1934-1937, Brooklyn Dodgers 1938
Bio: Grover "Ox" Emerson was an outstanding two-way player with the Portsmouth Spartans/Detroit Lions during the 1930s. He signed with the Spartans in 1931, starting at right guard while also seeing action at center. Portsmouth won 11 games, earning the first of three second-place finishes in four years. The Spartans played for the NFL title in 1932, losing a close, hard-fought game to the Bears, 9-7. Emerson stood 5' 11" and weighed just over 200 pounds and was known for his aggressive blocking that drove defenders off the line of scrimmage. His blocking created rushing lanes for the backfield quartet of Eddie Caddel, Ace Gutkowsky, Dutch Clark and Glenn Presnell. One of Emerson's best seasons was in 1935 when the Lions won the NFL title in a 26-7 romp over the New York Giants. The following year in an 11-game schedule, Detroit rushed for the most yards in a season in NFL history. On defense, Portsmouth/Detroit was among the NFL's leaders in various defensive categories during Emerson's career such as allowing the fewest passing yards in 1933 and 1937. The team's best year defensively was 1934 when the Lions yielded a league-low 59 points and posted seven consecutive shutouts to begin the season. Emerson retired following the 1937 season, joining Potsy Clark to coach the Brooklyn Dodgers. He came out of retirement to play in 1938, where he started in seven games. With Detroit, Emerson was named first-team all-pro by at least one major media outlet six consecutive seasons (1932-37) and was selected to the NFL 1930s all-decade team. He is widely considered the best guard in Lions' history as well as one of the franchise's top defensive players, earning a spot on the all-time Detroit Lions team.
Chuck Foreman
Statistics
Position: Running Back
Teams: Minnesota Vikings 1973-1979, New England Patriots 1980
Bio: Chuck Foreman was one of the most versatile and dangerous running backs of the 1970s. Drafted twelfth overall by the Minnesota Vikings from Miami of Florida in 1973, he immediately became a dual rushing and receiving threat. He was named Offensive Rookie of the Year by both the AP and Pro Football Weekly as the Vikings advanced to Super Bowl VIII. Minnesota won the NFL Central Division in all of Foreman's first six seasons, posting a 62-22-2 record and advancing to three Super Bowls. In 1975, he set an NFL record for receptions by a running back with 73 and finished second in yards from scrimmage. He also became the first Viking to rush for 1,000 yards in a season, a feat he duplicated in 1976 and 1977 during the era of the 14-game schedule. Foreman was named first team all-pro by all major media outlets in 1975 and followed that up in 1976 by being named first team by the NEA. He was named to some of the second all-pro teams in 1974 and 1977, to the all-NFC team four straight times (1974-77) and to five consecutive Pro Bowls (1973-77). Injuries slowed Foreman in 1979 and he was traded to New England in 1980. Foreman led Minnesota six times in rushing yards, four times in touchdowns, three times in scoring and three times in receptions. He was the first Viking to rush for 200 yards in a game, something only Adrian Peterson has accomplished since. Foreman was named to the Vikings Ring of Honor in 2007 and to the franchise's 25th, 40th and 50th anniversary teams. More than 40 years after his last game as a Viking, he still holds or shares numerous team records.
Bob Gain
Statistics
Position: Tackle, Middle Guard, End
Teams: Cleveland Browns 1952, 1954-1964
Bio: Bob Gain was a defensive pillar of strength who contributed to a number of great Cleveland Browns' defenses and teams. An Outland Trophy winner at the University of Kentucky, he was drafted by the Green Bay Packers fifth overall in 1951. Gain opted to play for the Ottawa Roughriders in Canada before signing with Cleveland in 1952. The Browns had the NFL's best defense throughout the first half of Gain's career and he played an integral role. With Gain one of the best middle defenders in the NFL, Cleveland led the league four straight times in fewest points allowed (1954-57), three times in fewest yards allowed (1952, 54-55), three times in fewest passing yards allowed (1954, 56-57), twice in fewest rushing yards allowed (1954-55) and in other categories such as fewest yards allowed per rush. During that run, the Cleveland defense stifled both the Lions and Rams in blowout Championship Game victories in 1954 and 1955. Gain's talents led him to earning five Pro Bowl selections (1957-59, 1961-62). He was also named first team all-pro by the Newspaper Enterprise Association in 1958 and a second-team all-pro at three different positions by the United Press, Associated Press, and New York Daily News on seven different occasions. He was also voted the NFL Defensive Lineman of the Year by the Los Angeles Times in 1957. The Browns posted a .678 winning percentage and won five conference titles and three NFL championships in Gain's years with the team. "He had such tremendous strength and big hands, he simply tossed aside opposing linemen," Cleveland head coach Paul Brown said of Gain. "Added to that strength was his great quickness and mobility." Gain was named in the third class of Browns Legends in 2003.
Riley Matheson
Statistics
Position: Guard, Linebacker
Teams: Cleveland Rams 1939-1942, Detroit Lions 1943, Cleveland Rams 1944-1945, Los Angeles Rams 1946-1947, San Francisco 49ers 1948
Bio: Despite not playing competitive football until college, Riley Matheson became one of pro football's top two-way guards of the 1940s. A stalwart on mediocre Rams teams during his first four seasons, Matheson created running lanes for backs Parker Hall and Johnny Drake but the individual success did not translate to the win column. Drake and Hall earned a combined three All-Star Game selections and two first-team all-pro selections behind Matheson's physical blocking. In 1942, Matheson helped the six-year old Rams to their best finish ever, a 5-6 record good for third place while earning first team all-pro honors from the Associated Press. Matheson was a key member of the Rams' 1945 NFL championship. He also starred on defense at linebacker, intercepting 14 passes in his career. While with the Rams, Matheson earned the nickname "Rattlesnake" that represented his toughness. Famed columnist Bud Collins once said, "Anyone as big, mean looking, but kindly as Riley Matheson, who was called 'Rattlesnake' and came from Texas Mines, you had to be awed." Several media outlets named him second team all-pro in 1943 and he was consensus first-team all-NFL in four consecutive seasons from 1944-47. He was also first team on all the combined all-AAFC/NFL teams in 1946 and 1947. He signed with the AAFC's San Francisco 49ers of the All-America Football Conference in 1948 and they posted a 12-2 record while averaging 34 points and 412 yards a game. He was named second-team all-AAFC that season on the league's official team and by the New York Daily News. The legendary Don Hutson named Matheson to his all-time team of players he played against in 1948 and he was named to the Rams' all-Twentieth Century Team in 1999.
Jimmy Patton
Statistics
Position: Defensive Back
Teams: New York Giants 1955-1966
Bio: Jimmy Patton was the unsung hero of the New York Giants defense during the team's great years from 1956 through 1963. Playing in the shadows of future Hall of Famers Emlen Tunnell, Sam Huff, and Andy Robustelli, Patton was one of the best safeties in the NFL for most of his career. As a rookie, he starred on special teams, returning two kicks for touchdowns on a mere eight total returns. The Giants had one of the best defenses in the NFL in 1956 and capped that season by clobbering the Chicago Bears, 47-7, for the NFL title. In the six years beginning in 1958, Patton intercepted 43 passes as the Giants won the Eastern Conference five more times. Included in that run was a league-leading 11 interceptions in 1958. The New York defense led the NFL in fewest points allowed in 1958, 1959 and 1961; in fewest yards allowed and fewest rushing yards allowed in 1956 and 1959; and in fewest passing yards allowed in 1959. The Giants' defense often played well in their five Championship Game defeats, most notably against the Packers in 1962 and the Bears in 1963 when they allowed only 16 and 14 points. Patton's outstanding play earned him five straight consensus first-team all-pro selections (1958-62) including three years in which he was named by every major media outlet. He also made the Pro Bowl in each of those seasons and earned second-team all-pro honors from the Newspaper Enterprise Association in 1963. "He had the three qualities you find in the best players," said Giants' head coach Allie Sherman. "Consistency, top performance and great heart." Patton had 52 career interceptions, including 14 against the Washington Redskins, second most by any player against one opponent all-time.
Drew Pearson*
Statistics
Position: Wide Receiver
Teams: Dallas Cowboys 1973-1983
Bio: The 1970s was a decade of excellence for the Dallas Cowboys and Drew Pearson contributed greatly to their success. Known as "Mr. Clutch", Pearson made big play after big play for the Cowboys in a number of crucial situations. In the 1973 divisional playoff, he caught a game-sealing 83-yard touchdown pass. Two seasons later in the division round, he caught a 50-yard touchdown pass in the final minute to propel Dallas over the Vikings to the NFC Championship Game and eventually the Super Bowl. His most clutch performance may have been when he caught two touchdown passes in the fourth quarter of the divisional round in 1980 as the Cowboys rallied to defeat the Falcons. Pearson's playmaking helped Dallas to three Super Bowl appearances and one victory. In his eleven seasons, the Cowboys won six NFC Eastern Division titles, 13 playoff games, and missed the playoffs just once. Pearson became a full-time starter in 1974 and finished third in the NFL in receptions and second in receiving yards. He was a first team all-pro that year for the first of three times and also earned the first of three Pro Bowl selections. In 1975, Pearson was in the NFL's top 10 in receiving yards, touchdowns and yards per catch. He was among the leaders in receptions and receiving yards in 1976 and 1977 including a league-best in yards the latter year. In 1984, Pearson was in a serious auto accident that effectively ended his career. He was the Cowboys' all-time leader at the time of his retirement with 7,822 receiving yards, 489 receptions and 48 touchdowns catches. He was named to the NFL's 1970s All-Decade Team, the Cowboys' 25th Anniversary Team and was inducted into the Cowboys Ring of Honor. Pearson was enshrined in the Pro Football Hall of Fame in 2021 eleven years after he was elected to the Hall of Very Good.
Ken Riley
Statistics
Position: Cornerback
Teams: Cincinnati Bengals 1969-1983
Bio: Humble as can be, Ken Riley may be one of the most underrated defensive players in NFL history. Riley was a quarterback at Florida A&M and switched to cornerback with the Cincinnati Bengals in the NFL. He kept a detailed journal on each receiver he played against, and his talent and studious approach separated him from his peers. Riley and Lemar Parrish were teammates for eight seasons and they were one of the best cornerback duos of the 1970s. Riley intercepted 65 passes in his career and trails only Hall of Famers Rod Woodson, Night Train Lane, Emlen Tunnell and Paul Krause for the most all-time. He finished second in the NFL in interceptions in 1976, 1982 and 1983 and was fifth in interception return yards with 141 in 1976. His nine picks in a 14-game season in 1976 was a Cincinnati team record for 30 years. Riley was named first team all-pro by at least one major media outlet in 1976 and 1983 and second team in 1975 and 1981. The Bengals had only moderate success during Riley's career including five playoff seasons capped by an AFC championship in 1981 and a loss that year in Super Bowl 16. Teammate Louis Breeden said of Riley, "How great is it that he had 65 interceptions at a position he never played until he got to the NFL? That's how frickin' good Ken Riley was. I had to learn from Kenny. What I knew, Kenny taught me." Riley returned five of his interceptions for touchdowns, recovered 18 fumbles and also had three picks in the postseason. The Bengals have never named an all-time franchise team but virtually all media outlets that have include Riley.
Entire Hall of Very Good
Class of:
2022, 2021, 2020, 2019, 2018, 2017, 2016, 2015, 2014, 2013, 2012, 2011, 2010, 2009, 2008, 2007, 2006, 2005, 2004, 2003
*Voted into the Pro Football Hall of Fame after induction into the Hall of Very Good.